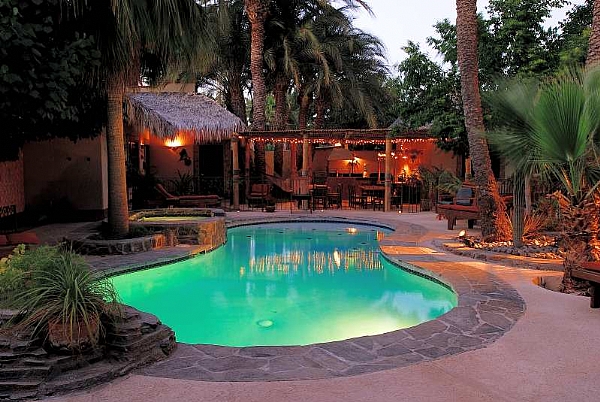 Vacation Rentals
Coco Cabañas and Casitas Vacation Rentals
|
Welcome to Coco Cabañas and Casitas Vacation Rentals
A perfectly located accommodation close to most popular
Places in Loreto just a walking distance from all dinning, things to do
And shopping, all that
Plus some beautiful views of the Sea of Cortez and Mountains.
Welcome to Coco Cabañas and Casitas Vacation Rentals
Formely known and preffered as the Hotel Coco Cabañas.
Now offers it's services also as a Vacation Rental of it's Casitas.
It is a complex of eight Casitas all around a nice courtyard.
With a nice pool and relaxing areas, shaded with palms
And a BBQ area to make your afternoon even more delightful.
With a nice covered patio porch with fans for the hot days, tables
And chairs to make that evening more comfortable.
Where you can enjoy some beautiful views of the Sea of Cortez.
All rooms counts with all you can need to enjoy your great vacations.
From an air conditioner that is a must on very hot summer days.
Flat screen tv in case you want to keep up with the news and sports
Back home while in Baja.
And if you still want to feel more connected, there's a free wifi,
Bring all tour devices and share the wonderful vacations you
Are having in the hearth of Loreto.
It is not a campsite, so each Casita has it's own private bathroom
With all your cleaning stuff ready.
Some of the eight Cabaña Rentas have a living room area
While other have some pool, garden and Sierra de la Giganta Views.
Reccomend to go out and try every restaurant in town.
But if you feel like cooking, there is a full equiped kitchen in
Each unit, where you can try to cook like a traditional mexican expert.
Improve your skills and learn new recipes, with the local ingredients.
That make traditional mexican food so special.
Las Cabanas de Loreto Baja California Mexico
It is located in the Loreto downtown area, just around the block
From the Sea of Cortez, and three blocks from the town square.
It has it's own free private parking spot for guests, if you are
One of those adventurers that love to drive down all along the Baja.
This could be a great place to stop and stay for a few days
In yout way to the Lands End Finisterra in the Baja California Sur.
Coco Cabañas and Casitas Vacation Rentals a few steps from Sea of Cortez
Loreto Baja is Popular for many things to do and activities
And all the natural attractions that surrounds this destination.
Here in Coco Cabañas, they could help you arrange some
Activitiws like scuba diving, snorkeling, boat tours, hiking
Tours and more.
The Job in every Loreto Lodging is to make your visit
Pleasurable, if this is your final destination, just passing by
If you want to explore or to know more about the area
Comming to hike, snorkel, enjoy all the beauties of Loreto.
You will have a friendly helping hand at any place in town.
Vacation Rentals Coco Cabañas and Casitas in Loreto Map
You may like this: